Interest Group Descriptions
Main Content
Adventure Gals
The interest group will plan four outings a year. Outings will be according to members' interest. Some ideas include kayaking, hiking, camping and/or exploring local historical towns. For more information, contact Donna Wilson at dmwilson@siu.edu or 457-2587.
Antiques and Collectibles
The Antique and Collectibles Interest Group hosts speakers who discuss antiques and collectibles having historic, artistic and aesthetic value. Presentations are accompanied by members' questions and viewing antiques. Programs end with a yummy treat: a beverage and dessert.  Join us the first Tuesday of the month (October through May) at 1:30 p.m.  Locations will be announced to group members. For more information, contact Vivian Ugent (457-5258, vivianugent@gmail.com) or Carol O'Donnell (549-2287, odonnellcj@yahoo.com).
Arts and Crafts Experience
Members will have the opportunity to explore new insights through multimedia. Classes will offer a chance to learn interesting skills while expanding an understanding of art with no pressure. These classes are all about imagination, creativity, and, above all, stress release. The creative right side of the brain will be awakened by creating imaginative pieces through fun projects constructed by group members, some of whom are award-winning and nationally recognized artists and teachers who will be instructing a variety of multi-media arts/crafts. Exploration of art materials and media while learning new concepts and "artistic" techniques (painting, printmaking, transfer techniques, papier-mache, altered books and crafting) will be included. An occasional studio visit to artists in and around the downstate area is planned. No previous art experience is necessary. There will be a fee for some materials. Meets 1st Friday of each month, 10 a.m. - Noon, at the Faculty House. For more information, contact Teresa Fix at teresafix@frontier.com or 618-713-1157.
Book Discussion – Afternoon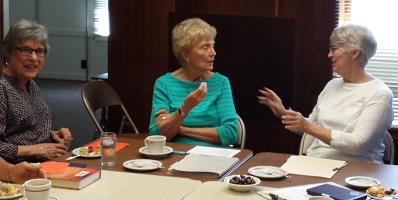 The Afternoon Book Discussion Interest Group meets the second Thursday of each month at 1 p.m. at the Faculty House (no one needs to clean her house!). Books are chosen by the group and range from contemporary novels to classics to non-fiction. Meetings begin with refreshments (we find sugar enhances our literary insights) with the discussions lasting until 3 p.m. One volunteer gives a brief summary about the background of the book and author; then we are open for a wide-ranging discussion. Even those who have not had time to read the book find the conversation worth their while, which provides incentive to "finish the book"! The variety of books and the variety of opinions provide something for everyone. Join us if you enjoy reading and/or would like to have suggestions of good books to read. Contact Janet Earnest (549-0416, jandaearnest@gmail.com) if you have additional questions or need directions.
Breakfast Group
The Breakfast Group is a group of early risers who meet, talk, and laugh with friends over breakfast. It meets at 7:30 a.m. the third Friday of each month throughout the year at Denny's Restaurant in Carbondale. We have no formal program and usually finish by 9 a.m. For more information, contact Janet Banerjee (687-3582, janet.banerjee@gmail.com).
Cooking Lunch with Friends (Group #1)
Cooking Lunch with Friends (Group #1) meets four times a year in members' homes to share lunch together. We also share cooking tips/recipes and great conversation. Everyone gets a turn at cooking for the luncheon, always in teams. If you like good food and good conversation, join us. For more information, contact: Betty Person (457-8658, bjperson@gmail.com) or Sue Whitlock (534-3524, whitlockjs@aol.com).
Cooking Lunch with Friends (Group #2)
Cooking Lunch with Friends (Group #2) meets four times during the academic year on the first Thursday of the month. There are three or four hostesses in each group and the meetings are in members' homes. The hostesses decide the menu, and recipes are provided. Everyone is a hostess one time. For more information, contact Rivi Meltzer (549-2355, rivmel1@gmail.com).
Evening at the Cinema
The group will meet monthly on the first Thursday at one of the two theaters located in Carbondale - Showplace or University Place. Group members will be notified of the movie, the theater, the day and time via email or a personal call each month. Participation fee is the cost of the movie. To be included on the notification list, contact Laura Helsel at lahelsel@yahoo.com or 618-559-4541.
Gentle Toning, Stretching, and Yoga (GTSY)
The GTSY ("Gutsy') Group meets weekly, Thursday, 5:45 p.m. at the First United Methodist Church in Carbondale for those exercises that keep the joints flexible. For more information, contact Nelda Hinckley (549-5588, neldahinckley@jalc.edu).
Knitting and Stitching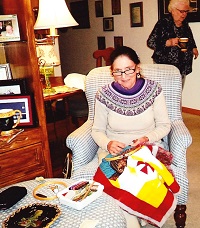 The Knitting and Stitching Interest group meets in members' homes the fourth Thursday of the month, September through May at 1 p.m. It is such a nice time to get caught up on our handiwork that often gets put aside because of other commitments in our lives. We enjoy one another's company and, of course, the dessert! Contact Dorothy Baker at dlwbaker@gmail.com or 549-2560.
Meet 'n Eat
The Meet 'n Eat Interest Group meets at 12 noon on the second Wednesday of the month. The group decides from month to month the restaurant choice. A Carbondale restaurant is selected during the winter months, but out-of-town restaurants may be selected other months. Car pools can be arranged. For more information, contact Tedda Becker (457-8903, beckertedda02@gmail.com).
Newcomers Dinner Group
This group is especially for those who are new to SIU or new to the SIU Women's Club. It meets the fourth Monday of every month at 6 p.m. A hostess is designated for each month and that member can decide to host at her home and ask others to contribute or she may choose to have the group meet at a restaurant. For more information, contact Tami Boaz at tamib@foundation.siu.edu or 203-7321.
Quilting Group
This group meets on the second Wednesday of the month from 1 p.m. to 3 p.m. in members' homes. Individuals show their recent projects, discuss any new techniques they may have used or a problem they might have encountered to get input from other quilters. Anyone who does quilt or might be interested in getting started in this rewarding activity is very welcome to join this group. Beginners are especially welcome and encouraged to join us. We like to encourage members to demonstrate any new methods keeping us all up-to-date on current skills and to give a helping hand to those who may have questions on their individual project. For more information, contact Pat Tindall (549-2427, dp.tindall@outlook.com).
Scrabble
The Scrabble Group meets at 2 p.m. on the third Thursday of each month at the Faculty House. This is a fun group of women who enjoy pitting their word skills against each other. We use the latest version of the Scrabble Dictionary and are flexible with the rules regarding consulting the Dictionary for words. New players are always welcome, and you can come as often or as infrequently as you like. We correspond with email reminders and confirmation of availability to play each month. Contact Mary Pohlmann at maryp@siu.edu for further information.
Secrets of Ethnic Cuisine
The Ethnic Cuisine Group meets four times a year for lunch. Our goal is to learn how to prepare authentic ethnic dishes that the group selects. For more information, contact Olga Weidner (549-7527, oweidner@siu.edu) or Shirley Estavillo (529-5690, jsestavillo@hughes.net).
Storytelling
Oral tradition has been an integral part of passing history, stories, beliefs, and more. In today's electronic second-by-second information filled world many have forgotten the art of storytelling. Together we share our wisdom, humor, folklore and more through storytelling. We will learn new skills and techniques of storytelling, learn the craft involved and hone the stories we know and want to share. For more information, contact Deborah Corker (907-248-1236, phdcorker@aim.com).